2016 Loyalty Cards launched !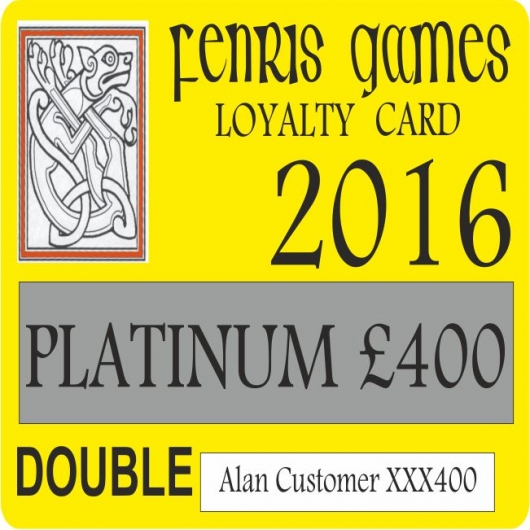 Following our now traditional Loyalty Card Reward Schemes (with prizes worth between £750 and £950) we're launching 2016's Fenris Loyalty Card now, to give a range of discounts in return, freebies, and added benefits. Think of this year's scheme a little like a Kickstarter without the inky fingers of the big corporates involved.
Loyalty Cards will be available to purchase between now and December 31st 2015.The first 48 hours of availability will see the Loyalty Cards doubled in value (ie. a bronze card at £50 will be worth £100 store credit) after which, values will be as follows:
1) The Bronze Loyalty Card will cost £50.00 and will be redeemable for £65.00 of Fenris stuff.
2) The Silver Loyalty Card will cost £75.00, and will be redeemable for £95.00 of Fenris goods.
3) The Gold Loyalty Card will cost £100.00, and will be redeemable for £140.00 of Fenris stuff.
4) last but not least, the Platinum Loyalty Card, costing £200, will be worth £275 when redeemed for Fenris Games stuff.
NB. All loyalty cards bought by/for overseas customers will carry an additional £40 cost to help cover the increasing additional costs of airmail postage; however this will translate to an extra £50 credit on each card (so a Silver Overseas card will cost £115 but be worth £145 in redemption value.)
Everyone buying a loyalty card will also receive a range of free Limited Edition (not available for sale to non-LC customers) 28mm-scaled miniatures and models as follows:
Bronze level & above -1 x goblin barbarian hero model (with companion) on resin base.
Silver level & above – 1 x goblin hero, 1 x skeleton champion with resin bases.
Gold level & above – goblin, skeleton, skeleton king on nightmare with resin bases.
Platinum level – goblin, skellie, king/nightmare & demon with resin bases.
The LE models will be available ONLY to LC customers – if you can't afford a higher level of card now but would like one of the higher level LE rewards you WILL be able to use some of your credit to grab the other models, if desired. These models will be posted out with your orders to cut down on postage costs.
Every Loyalty Card holder will also have their name put into a prize draw to win a huge prize – 1 of everything new we produce in 2016. This could include bases, scenery, miniatures, laser-cut kits and more. In 2015 we produced over 80 new products (valued over £750), so the potential value of this prize is well over £500 !
Loyalty Cards may be redeemed from 1st January 2016, valid until 31st December 2016, and may be spent in any combination of small or large orders, to the redeemable value of the relevant card. Postage is free no matter how many orders in total you use to spend your Loyalty balance. To spend a Card's value, or part of it, the holder will need to place a direct order through the webcart using a personalised promotional code.
Loyalty Cards can be put in the buyer's name or that of any other named person (if intended as a gift). Cards are limited to a maximum of 3 per person, and may not be used in conjunction with other special offers or sales. Bronze Age miniatures and any other imported/bought-in ranges are NOT eligible for payment from Loyalty Card balances. Loyalty Cards MUST be presented if being used to make purchases in person at trade shows we attend.
Terms & Conditions and a how-to guide to using the LC within the webshop and at shows will follow along with the physical card itself early in 2016; you will receive your personalised discount code and be able to spend your credit from January 1st 2016.