CTHULHU WARS – a board game by Green Eye Games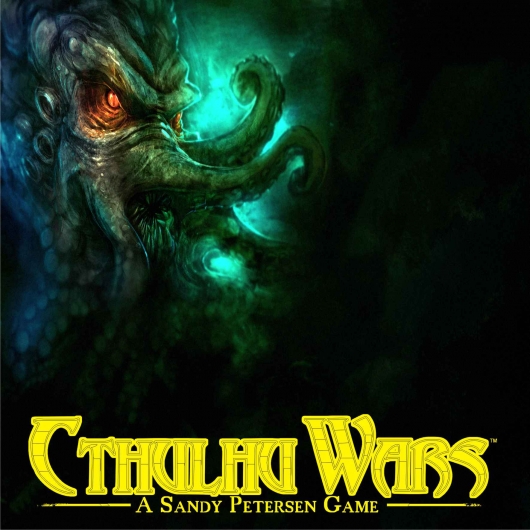 Legendary game designer Sandy Petersen, has teamed up with accomplished game professionals Robert M. Atkins and Richard Luong to form the board game company, Green Eye Games. They are extremely excited to launch their first game Cthulhu Wars, debuting later this year.
More than a half-century ago, H.P. Lovecraft changed the face of the horror genre forever, influencing science fiction, horror, film, games and mystery writers for generations. His most famous creation is the Cthulhu Mythos, a cosmos filled with alien and inner dimensional horrors. Inspired by this work, Sandy got his start in gaming by developing the tabletop roleplaying game Call of Cthulhu. This seminal game has proved a cult success over the years. News of Sandy's first board game in 20 years has fans across the globe excited, including the Founders at the H. P. Lovecraft Historical Society, who noted "The H. P. Lovecraft Historical Society is thrilled that our friend Sandy Petersen is developing a new Lovecraft-inspired game."
On what makes this game unique, Sandy remarks, "The marketplace today has many board games featuring the Cthulhu Mythos. In most such games you strive to avert the impending catastrophe. But in Cthulhu Wars you ARE the catastrophe!" Cthulhu Wars is a competitive strategy game in which the players control one of four unique factions, which produce cultists and monsters to build mystic gates, and awaken Great Old Ones.
Being a fan of the Mythos-based figures sold by Fenris Games, Sandy reached out to get them involved with sculpting the figures for this ambitious title. Ian Brumby explains his excitement upon getting the call, "As a small manufacturer one can only dream about the big projects, the hall-of-fame products that the giants of the games industry seem to produce on a regular basis. So when you open your email of a morning and find Sandy Petersen asking if you'd like to work with him on his latest project, it's like all of your birthdays have come at once."
At Fenris, Ian has spent the past 5 years building a range of miniatures and gaming aids that inspire a wide audience online and in games rooms around the world. "The opportunity to work with one of the biggest names in gaming history to produce truly iconic models is something I had, indeed, only ever dreamed about before, and that same inspiration has driven all of the sculptors I've been lucky enough to work with on Cthulhu Wars. Sandy's enthusiasm for his subject has been infused into every page and every Cthulhu-related gaming experience there is, and we hope this shows through in the work we've contributed so far."
Each copy of Cthulhu Wars comes with 80 high-quality figures, ranging from 28mm to 200mm – the same size as used in D&D or Call of Cthulhu – and are suitable for use in any game of the same scale – such as Descent or Zombicide. We think the figures created by Fenris Games are worth the price alone.