Emerging from the Mere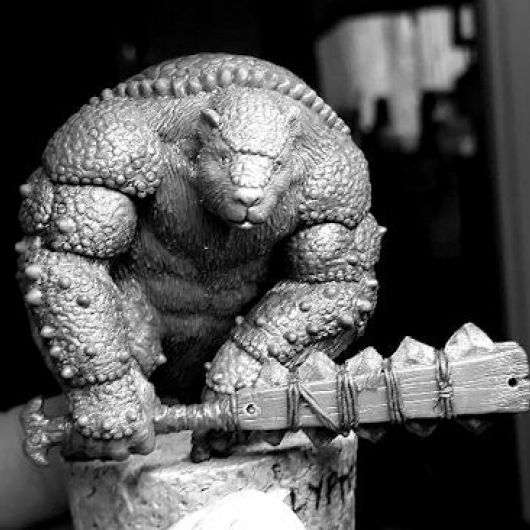 Hello, long-suffering Fenris customer! Here's hoping you're dealing with this world of perma-exhaustion and uncertainty in less trying circumstances than me ....

The Fenris workshop move was completed on August 15th, after some 25ish two-way trips soloing van loads and shipping container 200 miles north, and after far too long essentially homeless, living in the old workshop. Three months plus of lockdown combined with the physical toil of packing and moving, plus the mental stress on top left me beyond exhausted and I'm still a good way from 100% recovered, but I've *finally* started resin production again this week and am building up stock again and processing outstanding orders.
It took me well over a week to build benches and clear enough space for casting equipment and I'm still digging through boxes of moulds in the shed until I can get proper racking built and set up. I'm operating in a space about 1/5 the size of the old workshop, so it's going to take some time to get back into a proper production routine with everything set up as ergonomically as possible for the space.

As soon as Royal Mail can restart Postal Collections at the new address, parcels will begin winging their way out again. The village Post Office is an understaffed counter in a Co-Op and not at all well setup to deal with a sudden influx of parcels. Additionally, until RM get their act in gear (25 days and counting since cancellation at the old address, Covid obviously to blame for the delays at their end, too), I can't even label orders as the pre-printed mail codes will be wrong - so if you get an "Order Shipped" email please be aware your parcel may not actually physically be in the mail *just* yet… without regular, recent sales due to the closedown and move, I don't have the spare cashflow to post over the counter at standard prices.

Meanwhile, two out of five of the 3D printers are now running normally again after recalibration and troubleshooting, so print-to-order is in progress once more. The laser will hopefully be plumbed in and set up properly with extraction sometime this next week - weather permitting! As I type, a fresh parcel of resin goodies has just arrived from the contract casters and should cover all outstanding Cauldron Warband KS pledges; I've also managed to dig through to the masters and moulds for Rubble City and will be batch casting those, too.

Fenris has downsized dramatically since the start of 2020, so there will undoubtedly be more changes to come - but I remain committed to making and mailing every last one of your orders as soon as it's physically possible. I'm one of some 3 million SMEs in the UK who's not had a penny in help from the government (yes, I'm very aware of all of the grants, loans, and schemes, thanks!) so it's all being done on the biggest of shoestrings but it WILL GET DONE. With the news this morning of the cancellation of the Vapnartak show in Feb 2021, I'm not convinced we're going to see any tradeshows for at least the early part of next year - and wonder if the fact I've managed to survive this far without financial help will actually put Fenris in a stronger position by this time next year, when the new recession starts to bite hard alongside those Bounce Back Loan repayments….

Lastly, there will hopefully see some new goodies coming very soon once I am ready to start asking for new orders….. a plethora of new 28mm miniatures, resin models, and a host of newly acquired laser-cut tabletop kits, too. Keep an eye on the twitter/facebook/instagram pages for more, or subscribe to the soon-to-be-relaunched TooManyIdeas newsletter….