Worldbuilding Diorama Competition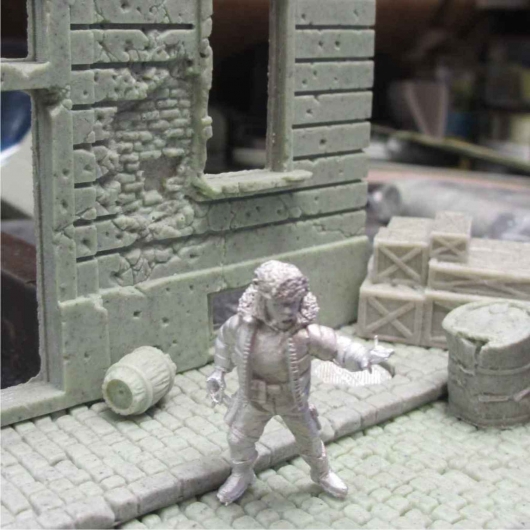 FENRIS WORLDBUILDING COMPETITION
Over the last couple of weeks I've had similar conversations with several people – business associates and customers alike – that have highlighted the fact many of you out there just don't know how broad a range of stuff we produce here at Fenris. Much as we try to organise all of these disparate bits and pieces into related categories, no amount of cross-referencing will replace you customers having a good old browse and making heavy use of the webshop's Search function.
Somewhere down the line, we're aiming to start organising groups of components into boxed "kits" – eg. Graveyard, Dockside, Sulaco Corridor – and part of the hope for this competition is that it'll help us see what kinds of kits might be popular.
Prizes: No cash awards; prizes will be awarded in the form of personalised voucher codes to the prize value; physical awards (shirts, mugs, badges) will be posted out with your prize orders.
1st prize £100 credit, T shirt, mug & badge
2nd prize £50 credit, mug & badge
3rd prize £25 credit & badge
Build & paint a diorama using ONLY Fenris bits and at least one of our miniatures (including Bronze Age and Cthulhu Wars), and scratchbuilt parts. There's no limit in size or subject, but all major components used must be from the Fenris catalogue/website. For instance, an Innsmouth dockside setting could use our modular cobblestones, terrace elevations, roof shingles, brick chimneys, Victorian streetlamps, laser-cut railings….the list goes on. We have over 900 items listed in the webshop now, suiting settings from Pulp to Fantasy, Modern to Science Fiction, and anywhere in between, so you've got plenty of bits to choose from !
Other manufacturer's minis CAN be used AS LONG AS at least 1 mini is from the Fenris range – so, for instance, a squad of Hasslefree modern troopers set in battle against one of the Cthulhu Wars beasties WOULD qualify.
All entries must be NEW work – along with photos of completed dioramas we will need to see photographic evidence of your start date – eg. A newspaper with your chosen, unpainted components laid out prior to assembly and painting. We will also want at least two final/finished views of the piece from different angles. Any miniatures used must be fixed to the diorama, NOT on separate bases.
Overall base size can be anything from 120mm diameter, with no upper limit. So, one of our 120mm scenic bases could be your starting point (and could count as your entire scenic contribution – though that would have to be amazingly well painted to win!) but as noted below, points will be awarded for clever use of bits over simple paint-and-place settings.
Judges will be the Fenris core team – Ian & Jo Brumby, Tim Prow, and Liam MacManigan. Entries will be marked on design, inspired use of bits, scratchbuilding, and painting – so a well designed piece will have as much chance of winning as a masterful paint job on a simple scene.
Start date is NOW
- end date is midnight, Friday, 24th October. All entry photos should be submitted to [email protected], headed WORLDBUILDING. You can enter as many times as you like, as long as ALL components used are either Fenris pieces or scratchbuilt work.
Any questions? Feel free to PM us here or email at the above address for clarifications.